Dictionary Day
A unique literacy project focusing on Oakland's third graders, attending primarily under-resourced schools.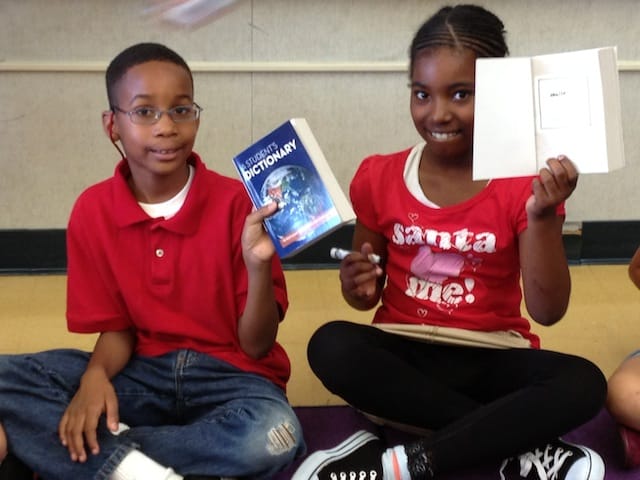 Third grade is the target year for growing literacy. Literacy encompasses more than just words, language and usage. The Student's Dictionary we give to Oakland third graders is a general Reference Book that enhances literacy in the broader sense, with over one hundred fifty pages of supplemental information. Key features include the Constitution of the United States, the Declaration of Independence, brief biographies of all U. S. Presidents, World Maps, the Multiplication Table, information about the Continents, all 50 States, Countries of the World, and the Planets in our Solar System.
Since early 2012, Volunteering For Oakland has made Dictionary Day one of its signature projects. VFO raises grant money from local non-profit organizations such as the Witkin Foundation and the Rogers Foundation and purchases dictionaries from the National Dictionary Project in South Carolina. Each academic school year, VFO volunteers give the dictionaries as gifts to third grade students in Oakland Unified School District elementary schools. After distributing the dictionaries to enthusiastic third graders, VFO volunteers spend thirty-five minutes in each class exploring the dictionaries with the students. Every succeeding school year, we have increased the number of schools and students reached with this wonderful program. In the 2015-2016 academic school year, we have brought Dictionary Day to all third grade classes in thirty-three of the fifty-four OUSD elementary schools.
Please consider volunteering for Dictionary Day. It is a wonderful opportunity for those who might have just a few hours to spend and who want to share in the education of third-graders in an exciting and fun-filled way. Contact Adele Grunberg at DictionaryDay@VolForOak.org.
Also, please consider making a donation to purchase dictionaries. A donation of just $62.50 provides dictionaries to a class of twenty-five third-graders. It doesn't take much to make a difference! To donate, click here.
Testimonials from teachers and benefactors.
Thank you very much for your time and willingness to enrich the lives of our students.
What a wonderful gift you are giving our school community.
Anne Perrone
Third Grade Teacher, Manzanita SEED School
I wish to thank you and the other volunteers very, very much for your time and generosity. My students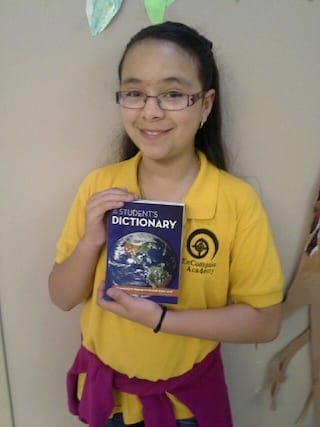 learned so much from your visit and learned a lot from your interactive lesson. They were thrilled by the dictionaries, and I know the dictionaries will be treasured resources for them.
Gratefully yours,
Amy Padilla
Third Grade Teacher, Manzanita SEED School
Oh, this is just thrilling!!
Thanks again. You are going to make our third graders very happy!!
Sincerely,
Lisa Rasler
Third Grade Teacher, Sequoia School
It was very kind of you to give us dictionaries. We will use them throughout the year. Thank you for taking
your time to get them. We will use them with respect and kindness.
Sincerely,
Naomi
Sequoia School Third Grade Student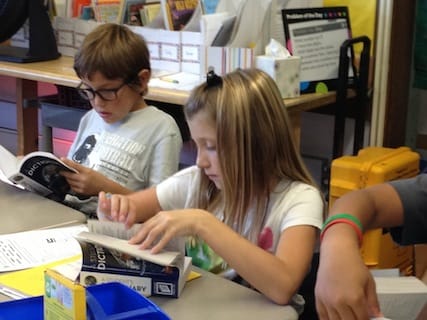 Here is a little poem to tell you how I feel.
Thank you for the dictionary. I love it a lot.
I look for presidents and the American flag and other stuff to plot.
Thank you really very much. I will use it for vocabulary and such.
I will bring it home and read it to my parents. They will love it very much!
Sincerely,
Mya
Sequoia School Third Grade Student
Thank you for the dictionaries. We will use them until the end of the year. At the end of the year, we will
keep them until we go to college.
Your friend,
James
Sequoia School Third Grade Student
Make this the year you commit to a cause that truly helps your community and that adds value to your life, too! Click here for more information.